CANCELLED!!JFJerrome ForestFri 3/13/2020 7:45 AM
ATTENTION ALL MEMBERS,
The safety and well-being of its members is always the AAU's top priority. Due to the evolving circumstances related to COVID-19 ("the coronavirus") and in following the recommendation of local officials, this weekend's AAU Gulf District Developmental Coaching Clinic at HCC Stafford Campus has been cancelled. We will make every attempted to reschedule this important event at a later date in 2020.
We are now working to ensure that refunds are issued to all who have registered for this event.
AAU Gulf District Leadership will continue to monitor the ongoing situation and work hard to bring you the previously awarded Track and Field events for 2020. We will keep everyone informed of any new information that may impact the remainder of our planned 2020 Track season. Thank you for your patience and support of AAU Gulf District Track & Field.
Jerrome ForestAAU Sports DirectorGulf District Track & Fieldaaugulfathletics@aol.com
—–Original Message—–
From: AAU Gulf Athletics <aaugulfathletics@aol.com>
To: aaugulfathletics <aaugulfathletics@aol.com>
Sent: Fri, Mar 6, 2020 11:54 am
Subject: AAU Gulf District Developmental Coaching Clinic – 2020
DON'T MISS THIS EXCELLENT TRAINING OPPORTUNITY FOR YOUR COACHES AND TEAM ADMINISTRATION!!
CALLING ALL AAU TRACK AND FIELD COACHES & ADMINISTRATORS!!
HERE IS THE CLINIC YOU'VE BEEN WAITING FOR!!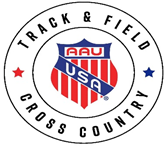 AAU GULF DISTRICT TRACK & FIELD DEVELOPMENTAL COACHING CLINIC

"TRAIN THE TRAINER" SESSION


AAU Gulf District Developmental Coaching Workshop Certificate to be Awarded to all who complete the Clinic!!
Saturday, March 14, 2019 10:00am – 4:00pm HOUSTON COMMUNITY COLLEGE – STAFFORD, TX
CALLING ALL GULF DISTRICT TRACK & FIELD COACHES $25.00 Per Attendee
Go to www.coacho.com to Register AND Pay Entry Fee
Come and Learn Best Track & Field Coaching Strategies and Techniques for Running, Jumping, Throwing and Youth Athlete Coaching Practices
WORKSHOP TO ALSO INCLUDE PROPER MEET MANAGEMENT TECHNIQUES & YOUTH PROTECTION POLICY SESSIONS

** ALL AAU GULF DISTRICT TRACK COACHES AND TEAM ADMINISTRATORS ARE ENCOURAGED TO ATTEND
** COME AND LEARN HELPFUL EVENT TRAINING TECHNIQUES AND BEST PRACTICES** REVIEW COACHING GUIDELINES FOR ALL ESSENTIAL TRACK EVENTS
** TRAINING AND DEMONSTRATIONS BY KNOWLEDGEABLE AND EXPERIENCED LOCAL INSTRUCTORS

TAKE ADVANTAGE OF THIS OPPORTUNITY TO IMPROVE THE KNOWLEDGE AND CONFIDENCE OF ALL YOUR TEAM'S COACHES!!

REGISTRATION DEADLINE ON WWW.COACHO.COM BY MIDNIGHT WEDNESDAY, MARCH 11, 2020

Location:Houston Community College Stafford Campus
10041 Cash Road
Stafford, TX 77477Event Director – Jerrome Forest
aaugulfathletics@aol.comjerromef@aol.com
Saturday, March 14, 2020 10:00am – 4:00pm
LUNCH AND REFRESHMENTS WILL BE SERVED
· This event is licensed by the Amateur Athletic Union of the U.S., Inc.All participants must have a current AAU membership.· AAU membership may not be included as part of the entry fee to the event.· AAU Youth Athlete membership must be obtained before the competition begins, except where the event operator has a laptop available with an internet connection.· Be Prepared: Adult and Non-Athlete memberships are no longer instant and cannot be applied for at an event.· Due to background screenings, please allow up to 10 days for adult memberships to be processed.Participants are encouraged to visit the AAU website www.aausports.org to obtain their membership